Match Point (W.Allen) --->>> link
Truman Show (J.Carrey) --->>> link
Spy Game (R.Redford,B.Pitt) --->>> link
L'Incredibile Hulk (T.Roth) --->>> link
Films da vedere (collegamento) --->>> link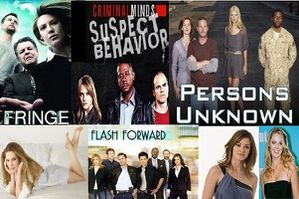 Persons Unknown (serie tv) --->>> link

Flash Forward (serie tv) --->>> link
Fringe (serie tv) --->>> link
How I met your mother (serie tv) --->>> link
Criminal Minds Suspect Behavior --->>> link

Spy Game is a 2001 American spy film directed by Tony Scott and starring Robert Redford and Brad Pitt.Set in 1991, the film depicts the United States and People's Republic of China governments on the verge of a major trade agreement, with the American president due to pay a visit to China to seal the deal.
Puntate delle Serie Tv da guardare (collegamento) --->>> link

L'incredibile Hulk (The Incredible Hulk) è un film del 2008 diretto da Louis Leterrier e basato sul celebre personaggio di Hulk, eroe dei fumetti della Marvel Comics creato da Stan Lee e Jack Kirby. Il film è un riavvio del franchise, dopo lo scarso successodel precedente Hulk (2003). Il protagonista è interpretato da Edward Norton, che ha anche contribuito alla stesura della sceneggiatura insieme a Zak Penn; il personaggio è basato principalmente alla versione Ultimate dove Banner si sottopone all'esperimento di proposito, esattamente come nell'universo Ultimate Marvel[4] e non viene investito dai raggi gamma nel tentativo di salvare Rick Jones come nell'universo Marvel ufficiale. Tuttavia, il personaggio mantiene i tratti del "gigante buono" dell'universo classico che vuole solo essere lasciato in pace dagli uomini e non la bestia assassina che compare nell'universo Ultimate Marvel. Insieme a Norton il cast comprende Liv Tyler, William Hurt e Tim Roth; quest'ultimo interpreta Emil Blonsky alias Abominio, storico villain del fumetto originale. A differenza del fumetto, Blonsky si fa iniettare il siero del supersoldato che ha dato vita a Capitan America.
Match Point is a 2005 dramatic thriller film written and directed by Woody Allen, and starring Jonathan Rhys Meyers, Scarlett Johansson, Emily Mortimer, Matthew Goode, Brian Cox and Penelope Wilton.Chris (Jonathan Rhys Meyers), a recently retired tennis pro, takes up a job as a tennis instructor at an upmarket London club. He strikes up a friendship with a wealthy pupil, Tom Hewett (Matthew Goode), after discovering a common affinity for opera. Tom's older sister, Chloe (Emily Mortimer), is smitten with Chris and the two begin dating. During a family gathering, Chris meets Tom's fiancée, Nola Rice (Scarlett Johansson), and they are instantly attracted to each otherThe film is a debate with Fyodor Dostoevsky's Crime and Punishment, which Chris is seen reading early on. Doestovsky's anti-hero Raskolnikov is a brooding loner who kills an old woman to prove that he is a superior being, but is racked by guilt and eventually admits all to a dogged sleuth, although he is finally redeemed by punishment, the love of a poor girl and the discovery of God.
Truman Burbank has lived his entire life, since before birth, in front of cameras for The Truman Show, although he himself is unaware of this fact. Truman's life is filmed through thousands of hidden cameras, 24 hours a day and broadcast live around the world, allowing executive producer Christof to capture Truman's real emotion and human behavior when put in certain situations. Truman's hometown of Seahaven is a complete set built under a giant dome and populated by the show's actors and crew, allowing Christof to control every aspect of Truman's life, even the weather. To prevent Truman from discovering his false reality, Christof has invented means of dissuading his sense of exploration, including "killing" his father in a storm while on a fishing trip to instill in him a fear of the water, and making many news reports and 'adverts' about the dangers of travelling, and featuring television shows about how good it is to stay at home. However, despite Christof's control, Truman has managed to behave in unexpected manners, in particular falling in love with an extra, Sylvia or known to Truman as Lauren,instead of Meryl, the character intended to be his wife. Though Sylvia is removed from the set quickly, her memory still resonates with him, and he 'secretly' thinks of her outside of his marriage to Meryl. Sylvia is part of a "Free Truman" campaign that fights to have Truman freed from the show.